Tapestry Arts Festival 2023: Our Canvas
Tapestry Arts Festival 2023: Our Canvas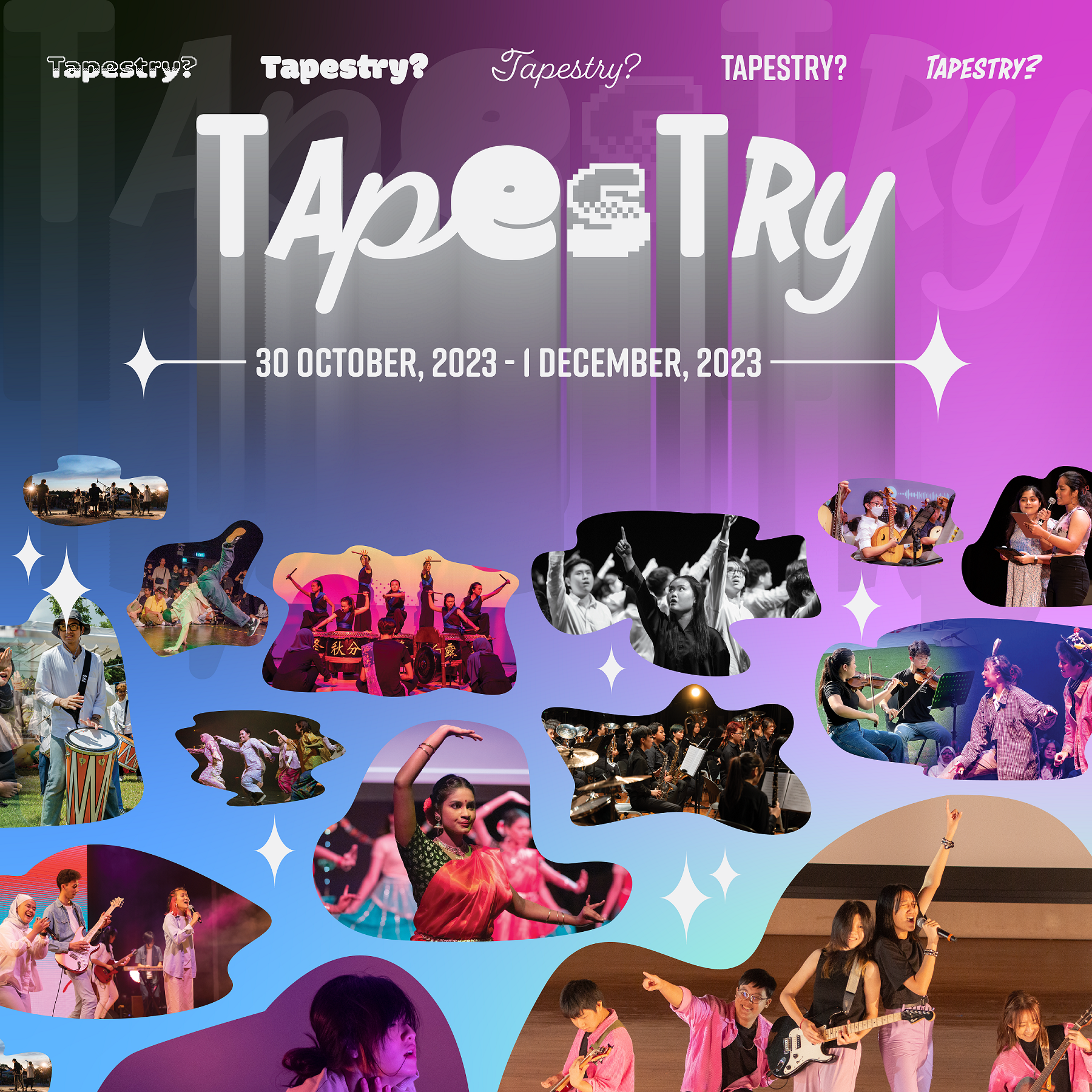 The Temasek Arts Centre proudly presents "Tapestry Arts Festival 2023: Our Canvas"!
Happening from 31 Oct to 29 Nov 2023, this month-long festival features the best of TP's arts groups, as they converge and bring their own special 'colour' to a unique palette of artistic discovery and expression!
A student-led initiative, "Tapestry" was launched in 2022 to celebrate the return of TP's performing arts to the stage once again. This year's theme – "Our Canvas" – seeks to provide a blank slate for all to contribute and build upon, and involves all 12 arts groups in TP as well as our two service groups (Digital Media & Production Crew and TP Emcees).
2023's edition will see a total of 14 festival events, featuring an enthralling line-up of concerts, masterclasses, workshops and satellite performances. With the eclectic ensemble of activities across various art forms, there is a little something for everyone!
Be witness to the magic that will happen as new colours emerge, possibilities open up, and inspiration grows. Come paint the canvas with us!
👉 For information on the Festival events and ticketing details, check out the official website here.
👉 Follow Tapestry on Instagram: @tapestryartsfest
Events
Event
Date/Time/Venue
Arts Groups Involved
Ticketing Details
Tapestry: Epiphany
31 Oct 2023 (Tuesday), 7.30pm, Temasek Convention Centre
Music Vox, TP Band, Salvo Drums, Teatro & String Ensemble
Free Admission
Exploring Dancers
1 Nov 2023 (Wednesday), 7pm, Studio 14
Malay Dance Group
Free Admission
Tapestry: Recital
3 Nov 2023 (Friday), 8pm, Black Box Theatre
Chinese Orchestra
Free Admission
Threads of Connection
7 Nov 2023 (Tuesday), 7pm, Black Box Theatre
Teatro & String Ensemble
$5 per ticket
Believe II Showcase & Workshop
9 Nov 2023 (Thursday), 4pm, Black Box Theatre
Music Vox
Free Admission
Supernova
9 Nov 2023 (Thursday), 7pm, Temasek Convention Centre
TP Chorale
$5 per ticket
Motiv
10 Nov 2023 (Friday), 7pm & 8pm, The Designer Pad
Dance Ensemble
Free Admission
Emcees Personal Branding Workshop
15 Nov 2023 (Wednesday), 6.30pm, Black Box Theatre
TP Emcees
Free Admission
'Lit' Workshop
17 Nov 2023 (Friday), 6.30pm, Studio 14
Indian Dance Group
Free Admission
Tapestry: BEATZ
18 Nov 2023 (Saturday), 7.30pm, Auditorium 3
Salvo Drums
Free Admission
Avec L'Expression XIII: Odyssey
18 Nov 2023 (Saturday), 5.30pm, Auditorium 1
TP Band
$5 per ticket
Night In
21 Nov 2023 (Tuesday), 7pm, The Plaza
Dikir Barat & Fusion Percussion
Free Admission
Watcha Got? Vol. 11
25 Nov 2023 (Saturday), 12pm, Black Box Theatre
Dance Ensemble
Free Admission
KPOP: Jinhwa!
29 Nov 2023 (Wednesday), 7.30pm, Auditorium 1
Music Vox
$5 per ticket