Polytechnic Forum 2023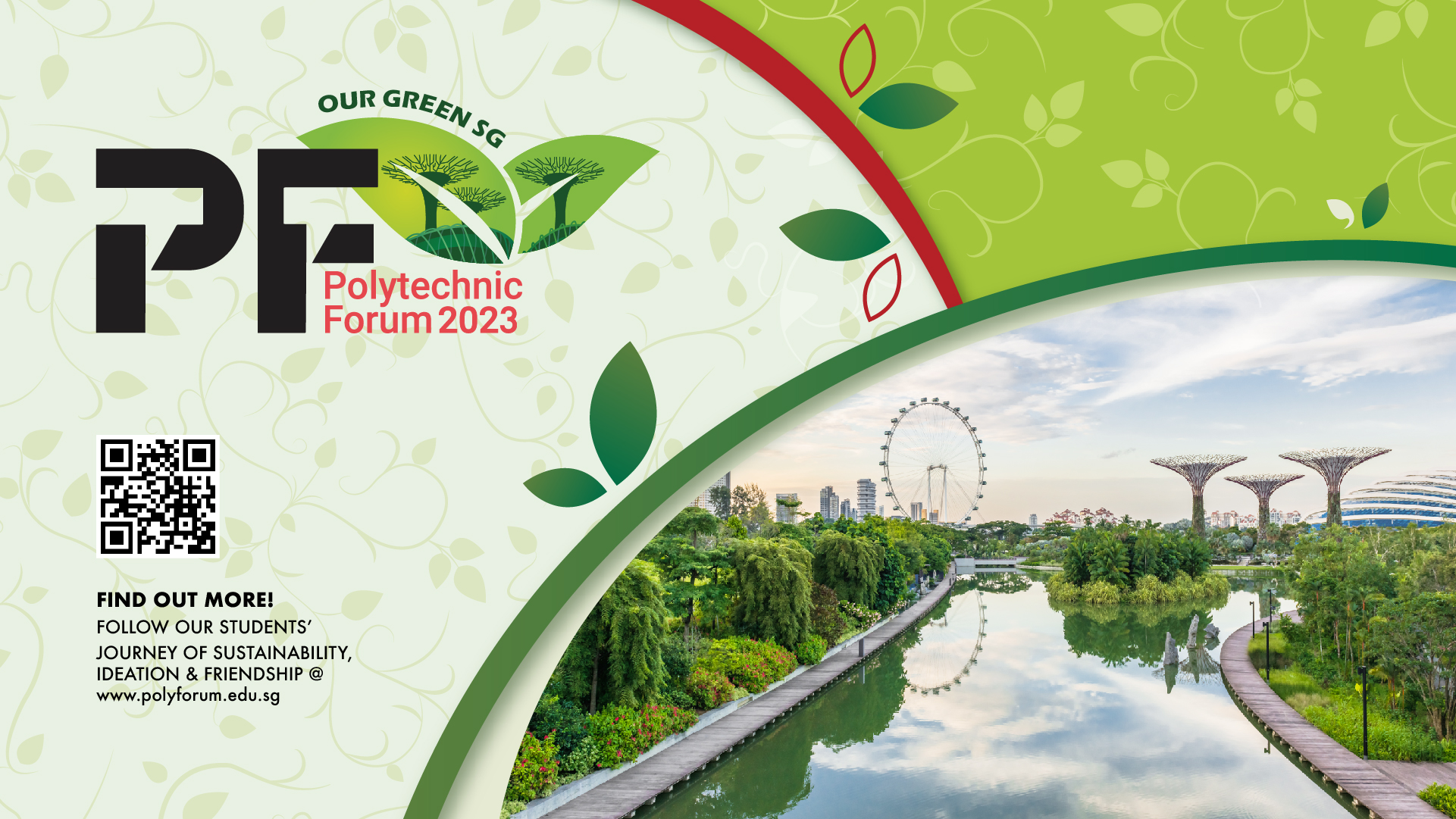 About the Polytechnic Forum (PF)

A very warm welcome to the Polytechnic Forum 2023!
Since 1996, PF has been providing an annual platform for polytechnic students to gain a deeper understanding of important national issues through an eclectic array of activities. This year's forum is organised as part of the inaugural Singapore Young Leaders Programme, which brings together student leaders to participate in exciting activities that will develop and hone their leadership skills.
---
PF 2023: Our Green SG

Sustainability is a vital part of our future!
Singapore is facing several sustainability challenges today and these issues will continue to be a concern for young Singaporeans in the coming years. Companies and individuals are realising that the sustainability agenda cannot be mutually exclusive. In fact, they should work together to create a more sustainable world for all of us. It is therefore important for us to tackle problems together with stakeholders, such as businesses, government agencies and community groups.
In this spirit, PF 2023 presents a valuable opportunity for our students to have their say in Singapore's move towards a greener, brighter and more sustainable future. This year's theme – "Our Green SG" – invites them to dream and envision together with their peers on what their green Singapore can look like and how they can get there.
In PF 2023, participants will explore the following sub-themes:
Green Economy
Green Resources
Sustainable Living
Resilient Future
These explorations will be complemented with a thoughtfully curated ensemble of activities – including peer discussions, learning journeys, talks, as well as engagements with government and industry leaders. Some highlights include the following:
14 Local Learning Journeys to interesting sustainability sites around Singapore!
2 Overseas Learning Journeys during the Residential Programme in Desaru (Johor, Malaysia)!
2 Panel Discussions, featuring 7 speakers from sustainability-related industries, who will share multi-faceted insights to enhance the participants' learning!
With the deep insights, knowledge and discussions that the forum will provide, we hope it raises our students' consciousness to take daily steps towards sustainability, and make a difference in the world around Singapore and themselves.
We wish all participants an enriching and fruitful PF experience. Have fun and happy ideating!
(Follow our students' journey of sustainability, ideation and friendship at PF 2023! For more information, please visit the official forum website here!)