Walk for Rice 2023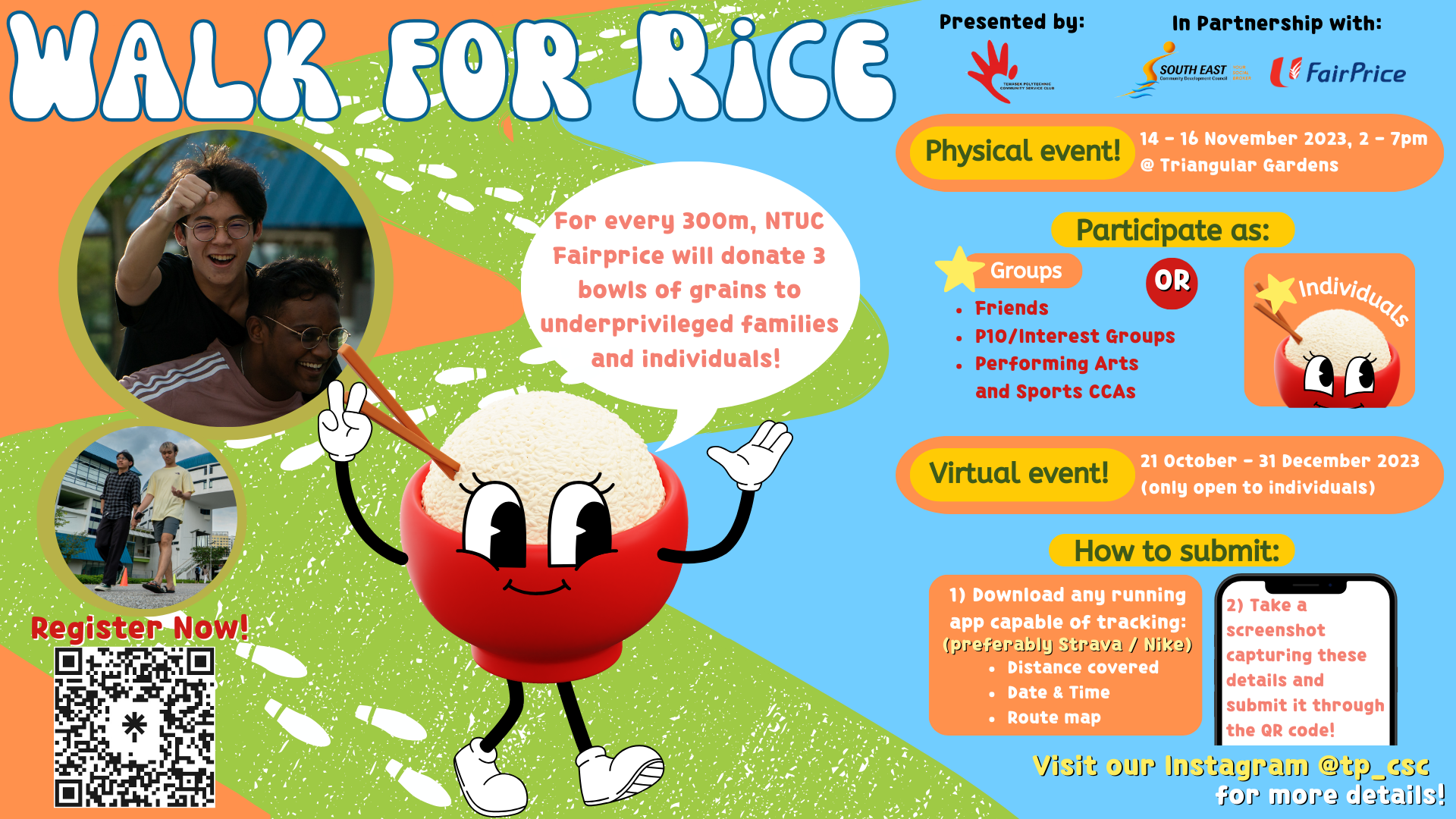 The TP Community Service Club (CSC) is back with Walk for Rice (WFR) in hybrid mode and we would like to invite you to join us!
A collaboration between the Fairprice Foundation and South East Community Development Council, WFR seeks to inculcate a spirit of giving among individuals in TP. For every 300m clocked, Fairprice Foundation will contribute 3 bowls of grains to vulnerable residents residing within the South East District.
This year, WFR will feature a virtual and physical event. While you walk for a good cause, you and your friends can also participate to win prizes!
Virtual Event
Date: 21 Oct to 31 Dec 2023
*No registration is required
Physical Booth
Learn more about WFR and win prizes at our physical booth!
Date: 1-2 Nov 2023
Time: 1pm to 5pm
Location: The Plaza (Outside TP Library)
Physical Event
Date: 14-16 Nov 2023
Time: 2pm to 8pm
Location: Triangular Gardens & The Plaza
Register for the Physical Event via the QR code found in the eDM or this link. Alternatively, you may sign up on site too!
During the Physical Event, we have also invited social enterprises and community partners to share volunteering opportunities and social causes at The Plaza, which you can contribute to in your individual capacity!
What's more, the Milo Truck will also make a special appearance during the Physical Event. Sip on chocolatey goodness while walking for a good cause at the same time!
For more information, follow CSC on Instagram: @tp_csc