---
TPSC – Stay Afloat! Basic water survival skills for non-swimmers
22 March 2023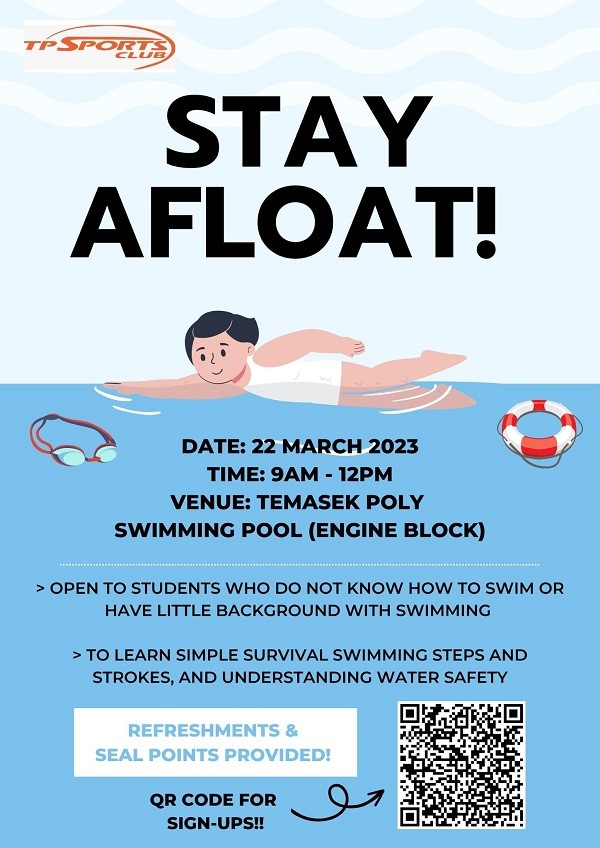 Hey, you. Can you swim? 💦🏊🏼‍♀️🏊🏻🏊🏼‍♀️
According to the World Health Organization (2021), drowning is the third leading cause of unintentional injury death.
We want to change that.
Temasek Polytechnic Sports Club (TPSC) and Swimology is hosting an introductory swim clinic for you and other students who have little or no swimming experience. 
In Stay Afloat!, the experienced coaches from Swimology will teach you basic water survival skills and how to execute several of swimming's fundamental strokes. 🤩
Are you ready to put safety first and prevent the worst? Sign up for Stay Afloat! now!
Details
Date: 22nd March 2023

Time: 9 am - 12 pm

Location: Temasek Polytechnic Swimming Complex (Block 31A)

Attire: Swimming Costume (No bikinis, T-shirts, or shorts. Board or swim shorts are allowed.) and Goggles.

Things to bring: Bag, Water Bottle, Towel, Change of clothes, and Toiletries
‼️Deadline for registration: 18th March 2023, 2359
We hope to see you there! Keep your heads up. Stay Afloat!
‼️ LINK TO SIGN UP:‼️
https://forms.office.com/r/aRVFUT8SCd
---
Youth Corp Leaders Programme
Neighbourhood Cares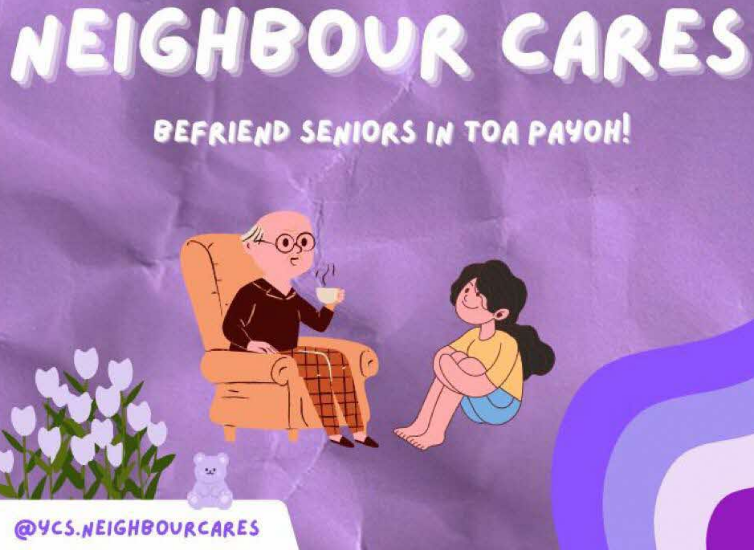 What is Neighbour Cares about?
Neighbour Cares hopes to build a community of volunteers to check in on seniors (with a focus on isolated seniors living in rental flats) regularly to monitor their well-being and take note of signs of distress. Akin to how a good neighbour will care for the people around, volunteers are to befriend the seniors and encourage them to be more engaged with their community. 
Come join us in our efforts to better the welfare of these isolated seniors and to meet like-minded individuals during your journey with us!
For more information and register, click here.
Brought to you by Youth Corp Leaders Programme Cohort 29
---
A Drama Performance by Hum Theatre
We are Like This Only 3
---
Upgrade to SimplyGo Concession
Now till 30 April 2023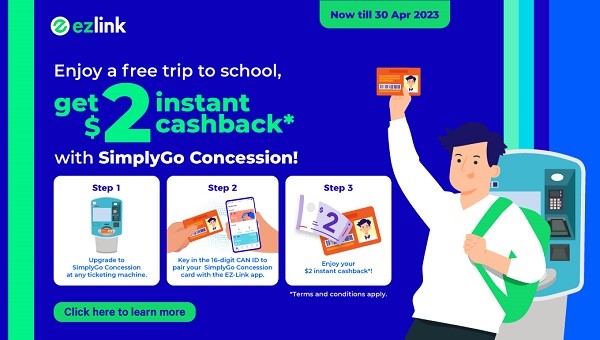 Get instant $2 Instant Cashback with SimplyGo Concesssion!
Upgrade to SimplyGo Concession at any ticketing machine and pair it with the EZ-Link app for greater convenience! Head down to any ticketing machine to upgrade your existing Concession card and receive $2 cashback!
Terms & conditions apply.
Campaign ends on 30 April 2023. To find out more -  https://www.ezlink.com.sg/simplygo-concession-cashback/.
---