POL-ITE Games 2023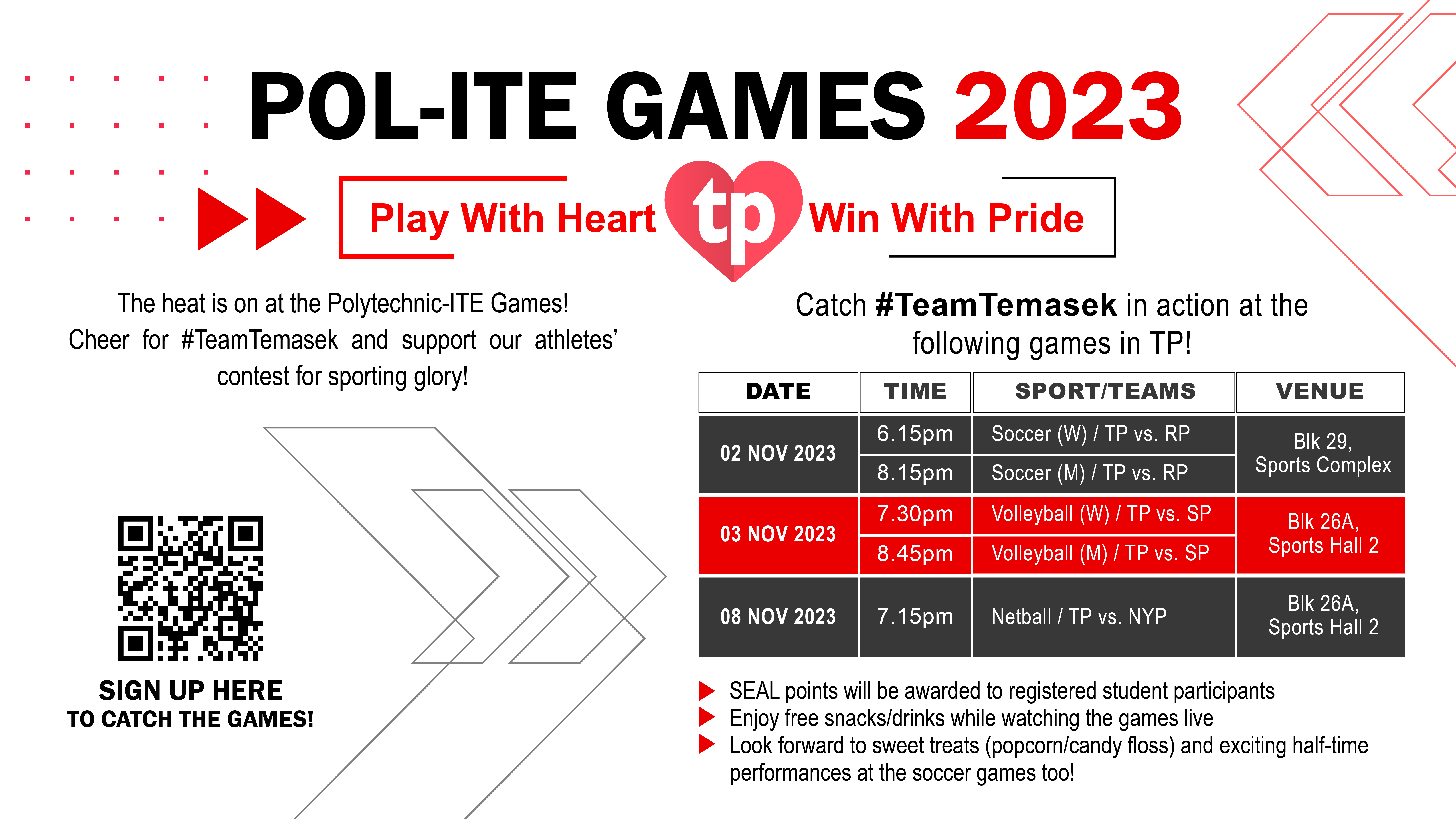 Hey #TPFAM! Are you ready to catch some adrenaline-pumping action and cheer our #TeamTemasek athletes on as they stand tall, play hard and give their all for TP?
The heat is on! This November, come support our athletes' contest for sporting glory at the Polytechnic-ITE Games! Help fuel their aspirations with your cheers, invigorate their spirits with your heart, and be part of our shared journey towards pride and honour at this annual games!
Keen to experience the electrifying games' atmosphere in person? Support #TeamTemasek at selected games and catch the exciting action live in TP! (Refer to the games' schedule below.)
⭐ SEAL points will be awarded to registered student participants! Sign up here: https://tinyurl.com/polite2023
⭐ Enjoy free snacks/drinks while watching the games live!
⭐ Look forward to sweet treats (popcorn/candy floss) and exciting half-time performances at the soccer games too!
One spirit, one dream, one team. Let's rally together and make TP truly a #TPhomeofchamps!
List of POL-ITE Sports Participated By TP

| | |
| --- | --- |
| 10-Pin Bowling | Archery |
| Badminton | Basketball |
| Dragon Boat | Floorball |
| Hockey | Kayak Racing |
| Netball | Road Race |
| Rugby | Soccer |
| Sport Climbing | Swimming |
| Table Tennis | Taekwondo |
| Tchoukball | Tennis |
| Touch Rugby | Track & Field |
| Ultimate Frisbee | Volleyball |
Catch Selected Games Live in TP!

Date
Time
Sport/Teams
Venue
2 Nov 2023
1. 6.15pm
2. 8.15pm
1. Soccer (W) / TP vs. RP
2. Soccer (M) / TP vs. RP
Blk 29, Sports Complex
3 Nov 2023
1. 7.30pm
2. 8.45pm
1. Volleyball (W) / TP vs. SP
2. Volleyball (M) / TP vs. SP
Blk 26A, Sports Hall 2
8 Nov 2023
7.15pm
Netball / TP vs. NYP
Blk 26A, Sports Hall 2